Welcome to Haven Of Fic - an archive for multi-fandom fanfiction.
Below is the navigation menu to find your way around this site.
If you wish to contact me about anything,
please email haven-of-fic@softhome.net
Fiction - the fanfiction archive. Indexed by 'Fandom' then by 'Title'.
232 stories currently archived
Submit - page to visit if you wish to submit your fanfiction to this archive. Lists all the guidelines for submissions.
List - information page concerning the haven-of-fic list, the mailing list provided by eGroups which works in co-ordination with this site.
Links - Links to other sites, and resources that fanfiction writers may use in their work.
Webrings - Webrings that this site is a member of.
Updates - Lists the latest updates made to this site.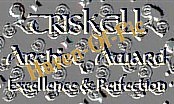 I've won an award! Thanks to Triskell for this! <waves>
Last Updated: 11th November, 2000
---
DISCLAIMER: This site is not intended as an infringement upon the copyrights that are held by the respective Powers That Be who own the fandoms we write about. Haven Of Fic was created for entertainment purposes only, so I'd really appreciate it if you didn't sue me/us - I/we don't have anything you'd want anyway. "Haven Of Fic", this site's layout/design, and all original graphics are all Copyright © 1999-2000 Sarah Gower. Please DO NOT reproduce elsewhere.